Besonderheiten:
- Futuristische Computergemälde
- hat eine Küche

Beschreibung:
Der Name kommt von den Computergbildern an den Wänden. Sehr empfehlenswert für Erstbesucher, die mal schnuppern wollen, wie es hier so ist. Das einfache Zimmer ist mit seiner vollausgestatteten Küche besonders für längere Aufenthalte sehr geeignet. Viel Tageslicht. Das 'normalste' Zimmer in der City Lodge.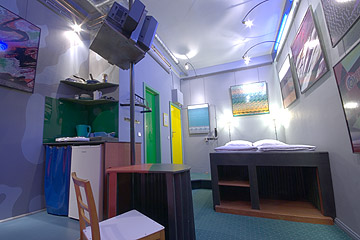 Electric Wallpapers
115 €

*
Features:
- futuristic computer paintings
- a kitchen is included

Description:
A recommendation for first-time visitors wanting to try out what City Lodge is all about. This straightforward accomodation, which is especially suited for longer stays due to its fully equipped kitchen. Lots of daylight. The most "normal" quarterings in our City Lodge.